Ad blocker interference detected!
Wikia is a free-to-use site that makes money from advertising. We have a modified experience for viewers using ad blockers

Wikia is not accessible if you've made further modifications. Remove the custom ad blocker rule(s) and the page will load as expected.
See this thread in the mailing lists.
Scribble is a simple path editor -- click on the canvas, and paths following mouse drags are converted into Polyline objects. Makes use of the SQL-like array insert functionality to create polylines and add points to them.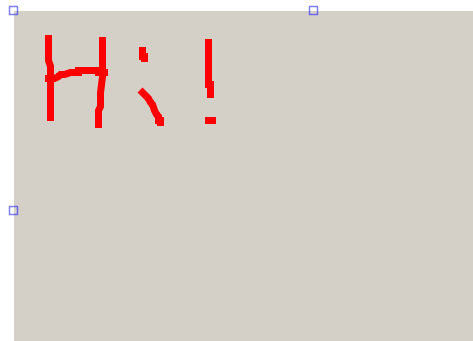 ScribbleRect.fx


//works with javaFX 1.0
package scribble;

import java.lang.System;
import javafx.scene.*;
import javafx.scene.input.MouseEvent;
import javafx.scene.paint.*;
import javafx.scene.shape.Polyline;
import javafx.scene.shape.Rectangle;
import javafx.stage.Stage;

class Scribble extends CustomNode {
    var polyline: Polyline;

    public override function create(): Node {
        var group: Group = Group{
            onMousePressed: function (e: MouseEvent) {
                polyline = Polyline{
                    points: [e.sceneX, e.sceneY]
                    stroke: Color.RED
                strokeWidth: 7};
            	insert polyline into group.content ;
            }// onMousePressed


            onMouseDragged: function (e: MouseEvent) {
                insert [e.sceneX, e.sceneY] into polyline.points;
            }// onMouseDragged

            content: Rectangle {
                width: 400
                height: 400
                fill: Color.BLUE //Color{opacity: 0}
            }// Rectangle
        }// Group


        return group;
    }// create()
}//Scribble


Stage {
    onClose: function(): Void {
        System.exit(0);
    }
    title: "Scribble with Rectangle"
    //fill: Color.WHITE;
    width: 600
    height: 400
    visible: true

    scene: Scene{
        content: [Scribble{}]
    }//Scene
}//Stage


[[Category:Code Example]]