Ad blocker interference detected!
Wikia is a free-to-use site that makes money from advertising. We have a modified experience for viewers using ad blockers

Wikia is not accessible if you've made further modifications. Remove the custom ad blocker rule(s) and the page will load as expected.
Original code by Christopher Oliver. Hour positions Group by Dean Iverson. See this thread in the mailing lists. Java Date Time
This is simple example of a clock that works in JFXPad.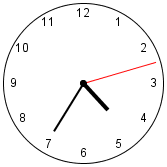 import javafx.ui.*;
import javafx.ui.canvas.*;
import java.util.Date;
import java.util.Math;

public class Timer {
    private attribute elapsed: Number;
    public attribute minutes: Number;
    public attribute seconds: Number;
    public attribute hours: Number;
    public attribute running: Boolean;
}

attribute Timer.elapsed = bind if running
then [1..20] dur 1000 linear
while running
continue if true
else 0;


trigger on Timer.elapsed = value {
    var now = new Date();
    minutes = now.getMinutes();
    seconds = now.getSeconds() + (now.getTime() % 1000)/1000;
    hours = now.getHours();
}


public class Clock extends CompositeNode {
    public attribute ticking: Boolean;
}

operation Clock.composeNode() {
    var t = Timer {running: bind ticking};
    return Group {
        var font = new Font("Dialog", "PLAIN", 15)
        var secs = bind t.seconds
        var mins = bind t.minutes + secs/60
        var hrs = bind t.hours + mins/60
        content:
        [Rect {
            height: 200
            width: 5000
            fill: white
        },
        Circle {cx: 100, cy: 100, radius: 80, fill: blue, stroke: black, strokeWidth: 1},
        Group {
            transform: translate( 100, 100 )
            content: foreach( i in [1..12] )
              Text {
                  var radians = Math.toRadians( 30 * i - 90 )
                  transform: [translate( 70*Math.cos( radians ), 70*Math.sin( radians ) )]
                  content: "{i}"
                  valign: MIDDLE, halign: CENTER
              }
        },
        Group {
            transform: translate(100, 100)
            var hourHand =
            Line {x1: 0, y1: 0, x2: 0, y2: -35,
                strokeWidth: 4, stroke: black
                transform: bind rotate(hrs*30, 0, 0)
            }
            var minuteHand =
            Line {x1: 0, y1: 0, x2: 0, y2: -55,
                strokeWidth: 2, stroke: black,
                transform: bind rotate(mins * 6, 0, 0)
            }

            var secondHand =
            Line {x1: 0, y1: 0, x2: 0, y2: -75,
                strokeWidth: 1, stroke: red,
                transform: bind rotate(t.seconds * 6, 0, 0)
            }

            content: [hourHand, minuteHand, secondHand]
        },
        Circle {cx: 100, cy: 100, radius: 3, fill: black, stroke: black }]
    };
}

Clock {ticking: true}

import javafx.ui.*;
import javafx.ui.canvas.*;
import java.util.Date;
import java.util.Math;

public class Timer {
    private attribute elapsed: Number;
    public attribute minutes: Number;
    public attribute seconds: Number;
    public attribute hours: Number;
    public attribute running: Boolean;
}

attribute Timer.elapsed = bind if running
then [1..20] dur 1000 linear
while running
continue if true
else 0;


trigger on Timer.elapsed = value {
    var now = new Date();
    minutes = now.getMinutes();
    seconds = now.getSeconds() + (now.getTime() % 1000)/1000;
    hours = now.getHours();
}


public class Clock extends CompositeNode {
    public attribute ticking: Boolean;
}

operation Clock.composeNode() {
    var t = Timer {running: bind ticking};
    return Group {
        var font = new Font("Dialog", "PLAIN", 15)
        var secs = bind t.seconds
        var mins = bind t.minutes + secs/60
        var hrs = bind t.hours + mins/60
        content:
        [Rect {
            height: 200
            width: 5000
            fill: white
        },
        Circle {cx: 100, cy: 100, radius: 80, fill: blue, stroke: black, strokeWidth: 1},
        Group {
            transform: translate( 100, 100 )
            content: foreach( i in [1..12] )
              Text {
                  var radians = Math.toRadians( 30 * i - 90 )
                  transform: [translate( 70*Math.cos( radians ), 70*Math.sin( radians ) )]
                  content: "{i}"
                  valign: MIDDLE, halign: CENTER
              }
        },
        Group {
            transform: translate(100, 100)
            var hourHand =
            Line {x1: 0, y1: 0, x2: 0, y2: -35,
                strokeWidth: 4, stroke: black
                transform: bind rotate(hrs*30, 0, 0)
            }
            var minuteHand =
            Line {x1: 0, y1: 0, x2: 0, y2: -55,
                strokeWidth: 2, stroke: black,
                transform: bind rotate(mins * 6, 0, 0)
            }

            var secondHand =
            Line {x1: 0, y1: 0, x2: 0, y2: -75,
                strokeWidth: 1, stroke: red,
                transform: bind rotate(t.seconds * 6, 0, 0)
            }

            content: [hourHand, minuteHand, secondHand]
        },
        Circle {cx: 100, cy: 100, radius: 3, fill: black, stroke: black }]
    };
}

Clock {ticking: true}